Weddings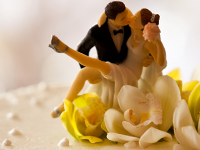 Having your wedding reception at the Kensington Palace is an unforgettable experience. From the elegant atmosphere and the spacious dance floor to the excellent service and the convenient location, your guests are sure to have a great time. Located directly in the center of Connecticut, the Baltic is a sensible choice for your wedding reception in regards to travel. We're professionally trained to make your wedding day run as smooth as possible and our past clients can back us up!
We Handle It All
One of the best parts about having your wedding at the Kensington Palace is that you won't have to worry about a thing when it comes to the food and the comfort of your guests. Our team is trained to ensure that you and your guests will have the most amazing night possible. We provide everything for you from cake and flowers to food and beverages. With a wide variety of food choices featuring the finest Polish-American cuisine, our menu has something for everyone.
Customized Packages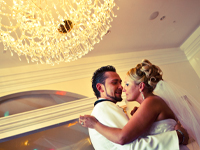 Our goal is to ensure that you have the most memorable and stress-free experience as possible. That's why we have the ability to customize anything that you may need. Don't like the vegetable that's on our menu? Let us know a suitable replacement and we'll be more than happy to accomodate you! If you have any questions at all, or would like to schedule a time to come in view our facility while discussing the details, contact us today!
Wedding Package
Open Bar, Personalized Cake & Flowers Included
Our comprehensive Wedding Package comes with everything you need to compliment the biggest day of your life including an open bar, choice of cake, flowers, table settings, glassware and linens. Coupled with our professional service, your wedding day is guaranteed to run as smoothly as possible!
Chef's Welcome Table
- Assorted domestic and imported cheese
- Smoked and Cured Meats
- Vegetables
- Fresh fruits
- House Pate
- Cocktail Shrimp
- Imported Pickled Mushrooms
- Pickles
- Deviled Eggs
- Beef or Tuna Tatar
- Smoked Salmon
- Belgian Endive w/ Fig and Blue Cheese Mousse
- Tomato Basil Bruschetta
Baltic Specialties Table (Wiejski Stol)*
Assortment of our Freshly House Made and Smoked Meats including:
- Kielbasa
- Pork Loin
- Pork Tenderloin
- Ham
- Baleron

Served With:
- Pickles, House Made Lard Spread (smalec), Horseradish, Potato Babka and Rye Bread
Roasted Pig Carving Station
Make sure your guests will be talking about how great the food was at your wedding by adding a Roasted Pig Carving Station. Ask us how we can incorporate this into your big day.


Hors D'oeuvres
Hot:
- Bacon Wrapped Figs
- Prosciutto Pancetta Wrapped Scallops
- Crab Cake
- Stuffed Mushrooms w/ Seafood
- Grilled Vegetable Skewers
- Pineapple Glazed Chicken Skewers
- Pate Wrapped in Puff Pastry
- Mushroom Tarragon Croquettes
- Roast beef sliders w/ caramelized onion and horseradish
- Shrimp tempura
- Fried calamari
- Corned beef Ruben sliders


Salads
- Spring mix with goat cheese, strawberries, toasted almonds dressed with raspberry balsamic vinegar
- Spring mix with baked goat cheese, macerated black figs, roasted walnuts and white truffle dressing
- Stuffed portabella mushroom with boursin cheese dried cranberry dressed with reduced balsamic and baby spinach
-Hearts of romaine Caesar salad wrapped in a parmesan tuile
- Bistro salad w/ pears, cherry tomatoes, gorgonzola cheese


Small Plates or Appetizers
- Pierogi filled with a choice of:
potato and cheese, sweet cheese, sauerkraut and mushroom, fruit, meat

- Pastas with a choice of:
penne alla vodka fresh mozzarella and basil, alfredo with asiago bread crumbs, tortellini in a pesto cream sauce, sundried tomato pesto w/ spinach 

- Choice of soup


Intermezzo
- Sorbet or Gelato


Starch Options
- Roasted Red Bliss
- Duchess
- White Truffle
- Garlic & Dill
- Sour Cream, Onion & Chives
- Roasted Sweet
- Roasted Fingerling Potato
- Sweet Potato Hash
- Spanish Rice
- Jasmine Rice


Vegetable Options
- Grilled Asparagus
- Summer Squash & Carrots
- Haricot Verts & Red Pepper
- Asparagus w/ Shitake Mushroom
- Honey Glazed Carrots


Entree
(Choice of Beef, Pork, Chicken or Seafood)
Beef
- Filet wrap in applewood smoked bacon and sauce béarnaise
- New York strip caramelized onions and demi glace
- Prime rib served with horseradish sauce and au jus
- Flank steak pinwheels with bacon onion relish and bleu cheese
- Beef Rolads
- Zrazy

Pork
- Tenderloin with cognac caramelized apple
- Tenderloin with mushroom gravy

Chicken
- Stuffed with apple and brie and calvados sauce
- Cordon bleu with mornay sauce
- Stuffed with spinach and mushroom

Seafood
- Chipotle glazed salmon with a grand marnier sauce
- Grilled salmon with a lemon beurre blanc
- Cod Polonaise baked filets of cod in butter and lemon with seasoned breadcrumbs
- Baked jumbo stuffed shrimp with crab meat and lemon butter
- Surf and Turf (always an option)

Vegetarian Dishes
- Eggplant Parmesan
- Pasta Primavera


Evening Meal Buffet
- Roast Pork Loin
- Chicken Legs
- Breaded Chicken Breast
- Pasta
- Pierogi
- Breaded Pork Loin
- Potato Dumplings w/ Meat
- Bigos
- Stuffed Cabbage
- Kielbasa w/ Sauerkraut
- Potatoes
- Vegetables
- Krokety
- Pork Loin Stuffed w/ Plums
- Chicken Breast w/ Carrot & Pepper Sauce
- Chicken Marsalla
- Flaki (Beef Tripe Soup)
- Red Borsch w/ Plate Wrapped in Puff Pastry


Children's Menu
(3 - 12 Years Old Only Please)
- Chicken Fingers & Fries
- Grilled Ham & Cheese
- Macaroni & Cheese
Call Today To Reserve Your Date!
If you'd like to reserve your date for your next event or you just want some more information, we'd love to talk! Located in the heart of Connecticut, right off of Route 9, the Baltic is the perfect place for your next event! Contact us today to learn more!