Know What's Going On!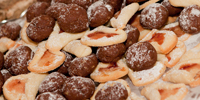 Here at the Baltic, we're always hosting new and exciting events. Check back often to see our most current events and don't be afraid to stop by and discover the authentic Polish-American taste found only at the Baltic.
Valentine's Ball | February 10, 2018
We have much pleasure in announcing the Valentine's Ball at Baltic Restaurant on February 10, 2018. It will be a great night that starts at 6:00pm until 2am of dining (appetizer, dinner and dessert) and dancing. There will also be a professional band, Paradise, which will play into the night a fiery blend music for a variety of cultures. BYOA. For more details and to book your ticket ($50 a person) please call (860) 828-9967.
Valentine's Dinner | February 14, 2018
We' are also delighted to invite you to our Valentine's Dinner on February 14, 2018. We will feature a menu to satisfy not just your palate but the spirit of the Valentine's Day.